I had the pleasure and honor to participate in the Konaverse Podcast series.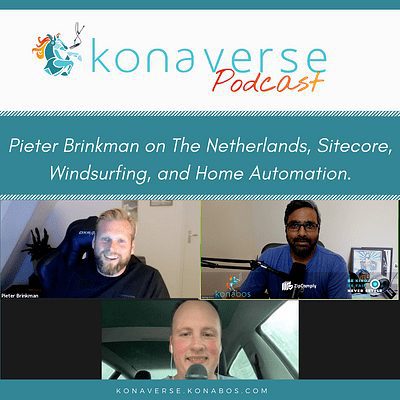 The Konaverse Podcast series is not all about work, technology and industry it a show about technology, work, careers and life. You get to know more about the people and what drives them.
We talked about everything from growing up in The Netherlands, family life, my career at Sitecore, windsurfing and home automation.
Listen the full podcast directly on Spotify, Google Podcast or Apple Podcast, or on the Konaverse site.
I really enjoyed participating, it was a very pleasant experience. The questions around growing-up make you think back about how good live you had so far and make you appreciate what you got. It's good to reflect and appreciate, this is something you forget sometimes with the busy life we all have.
Thanks to Akshay, Matthew and the Konabos team.
Pieter Brinkman on The Netherlands, Sitecore, Windsurfing, and Home Automation |Konaverse Podcast | Konaverse Podcast | Technology, Work, Career, And Life Related Podcasts (konabos.com)