Another great event comes to an end with Sitecore Symposium 2019. Almost 3.000 attendees gathered to learn more about Sitecore's products, vision and roadmap.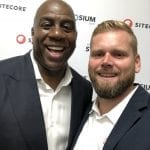 For me this years Sitecore Symposium highlights the announcement that SaaS is coming and a new Machine Learning Service for auto personalization. Next to keynotes from Sitecore's own Mark Frost, Paige O'Neill and Desta Price.
And let's not forget about the legendary keynote from Earvin "Magic" Johnson, which I also had the pleasure to meet.
This year it was -again- my honor to announce and reveal more details about our upcoming release of Sitecore 9.3.
Since the presentation I've received lots of requests for slides, more info and speaker engagements. As a start the slides are now available on Notists.
View What's new in Sitecore land on Notist.
Notists also include my speaker schedule as I'm planned to deliver the presentation again in London (14 November) and Amsterdam (10 December). Feel free to reach out to me if you want to invite me to speak at your event.
My session was only 45 minutes and I tried to push in as much 9.3 features and improvements as I could, but 45 minutes where not enough to cover all updates and more details. More information and details on the Sitecore 9.3 release will be shared on my blog.
The session has also been recorded and will be released after editing is finished.